It's HERE!!
---
--Yankee Articles and other Baseball Articles--
Questions in the Bronx; Can the Yankees Do It In 09?
BABE RUTH'S IMPACT ON LATIN AMERICAN BASEBALL AND LATIN AMERICAN BALLPLAYERS: CUBA: A CASE STUDY
By Manuel Márquez-Sterling
In many foreign countries, at some point in time, many American products became synonymous with the United States of America, to name a few, RCA radios and victrolas, the Model "T" Ford, Packard, Cadillac, and Parker pens. Babe Ruth and Baseball can be added to this list, especially for those Latin American countries in which the game of "Beisbol" is played. In fact, for legions of Latin American fans and Latin American players, Babe Ruth was the United States and the United States, Babe Ruth.....
By José Reyes 3/19/2006
I'm writing this article on the eve of the final game of the WBC and I am writing it here, where politics has no forum, unless there is cheating involved, then I will let politics intervene, like they did with the steroid controversy. The "World Baseball Challenge" final game between Cuba and Japan will be played tomorrow, there will be two very well coached teams with a lot of enthusiasm and loaded with great athletes. The key word here is "Athletes", because after all, this is, plain and simple, a sport. This has absolutely nothing to do with politics, it is all about competition and the will to win. When I look at athletes compete, I don't care what country they come from, what the color of their skin is and what language they speak. I don't care about the flags the fans are waving........
"Que Mier....!" : Rafael Palmeiro lies to the fans 8/14/05
By José Reyes
This is for you, Rafael Palmeiro, Mr. " I have never used steroids, period", you let the Cuban community down, you let the Latin community down, I hope your proud of what you have done, "Que Mierda". It is incredibly coincidental how the latest news about Palmeiro's failed steroid test arrived just when I was on the verge of publishing an article praising him and rectifying all the reasons why he should be included in the hall of fame. Well, I don't think so, you see Baseball is the one sport that is measured by numbers compiled and big numbers are essential in order to be considered a hall of famer. He played too many games, hit too many homeruns and too hits during..........
The "True Yankee" List A-Z (Final) By Jose Reyes 7/23/05
There is a big controversy going on with Yankee fans concerning the term "True Yankee", many Yankee fans are saying that there is no such thing as a "True Yankee" that if a baseball player wears a Yankee uniform,
then he is considered a "True Yankee", well, I totally disagree, I say these people are either not "True Yankee Fans" as I established in
Part One or they just ignore to respect tradition. Tradition is what it is all about and what is being destroyed by the extremely ridiculous amounts of money that these athletes are making. If there is something that I am trying to preserve with this two part series, it is tradition. All the money in the world, though it might help, does not buy you a championship as we have learned in the last 4 years......
.
"It's Disgraceful" By Jose Reyes 5/24/05
It's a total disgrace what the Yankee Boss, Mr. Steinvader is doing to our beloved "Center Fielder" Bernie Williams. The Yankees go on a mini-bad slump and he panics, what a low-life and what about Joe Torre, the so-called "Player's Manager", the all out so-called "Trooper" of our beloved Yankees, he folds up like a deserter.........
The "True Yankee" List (Part One) By Jose Reyes 5/1/05
There has a been a lot of talk about the New York Yankees lately on sports radio concerning the term "A True Yankee". Alex Rodriguez hit 3 homeruns the other day and had 10 RBI's, all in 1 game, pretty amazing, I must say, but the New York sports tabloids wrote several articles explaining that just because he had such a great night with this incredible achievement, that this would not put him over the hump with the Yankees fans, the "True Yankee Fans" that is, and make him a "True Yankee", overall, in Yankee history. Well, of course not! He's got a long way to go and in my opinion, he will never get there. I made the mistake before, but only once, it was when the Yankees picked up Tino and let go of "Mr. Baseball" Don Mattingly..................
" What If " (Part 2) Steroids and Baseball By Jose Reyes 3/05/05
In my first article "Steroids + Baseball = Cheating" concerning Steroids and the cheaters that are administering them in Baseball, I used numbers to prove my point of how in a short time, these players achieved these extraordinary feats. I was very upset when I wrote that article and I'm still very upset. How dare these cruel Individuals try to place themselves in front of the Baseball greats. In front of these great "Hall of Famers", who struggled so hard, making a minute fraction of income of what these "Phonies" are making now and playing their hearts out, day after day, year after year, with all sorts of injuries. The passion they brought to the field and the passion they gave to the fans were immeasurable. I wish I had a way to go back to those days, when Clemente and Rose, Mantle and Mays, Robinson and Aaron, Williams and DiMaggio, The Babe and The Yankee Clipper played and see them play. .....................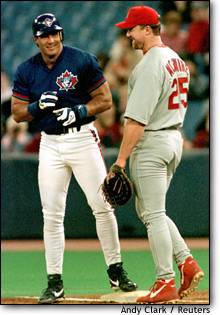 Jose', Jose', Porque', Porque'? By Jose Reyes 2/20/05
Why, Jose, why did you let everyone down, especially the Cuban-American community. We loved you, we bragged about you, how you smashed those "Moon Shots", how you were the only player to reach the 40-40 club, porque Jose? Look at you now, writing a book about how you administered steroids to McGuire, Giambi, Palmiero, Gonzalez, Rodriguez, why? A tell-all book on steroid use in Baseball ranging from the late 80's to the late 90's, during his whole career, when he played for the A's, the Rangers, the Red Sox, the Yankees, the Blue Jays, the Devil Rays, A's again, and the White Sox. Look at the cover of the book, it's like he's proud about it, how he became "The Man", the big steroid pusher in baseball. I don't get it, why would he want to degrade himself so much, like he really needs to, porque? Could it be that he got blackballed by Major League Baseball and nobody wanted him to play and get his 500 homeruns so he could make the Hall of Fame?............
"Steroids + Baseball = Cheating" By Jose Reyes 12/5/04
This is the lethal formula for the destruction of the sport of Baseball. If you don't feel it is, then you are not a real "Baseball Fan". Numeric statistics are so important in the sport of Baseball, that is why the use of Steroids can be so damaging. Steroids can significantly disrupt and even destroy the game completely if Major League Baseball doesn't react swiftly. Statistics are how we measure greatness in Baseball and how we judge if a player belongs in the Hall of Fame or not. I say "Let them play, let them smash all the records", but when they are finished with their careers and they are legible to join the Hall of Fame, then Baseball should "Ban" them all, just like they did with Pete Rose, because what they are doing with the help of Steroids now, is far worse than gambling on baseball games. ................
Nolan Ryan "Mr. Intimidation" By Jose Reyes 6/18/04
Throughout the history of baseball there have been pitchers that won more games, have had a better career winning percentage and have had a better lifetime ERA but no pitcher has had a more intimidating presence on the mound than the "Ryan Express", Nolan Ryan. Every time he stepped on that mound to pitch, the possibility of a no-hitter was drastically increased. The intimidation was ever present before he even made the windup. He would just stand there, impatiently waiting for the batter to set up to hit. It was like standing directly in front of an active volcano, just before it erupts. He would then proceed, by curling his body and thrusting it in one quick, forward burst. As the ball left his hand, you would hear a very distinctive sound, even from the stands, a strong grunt, "UH!".................
"The Godfather of Baseball" By Jose Reyes 3/28/04
George Steinbrenner is his name and he is known as "The Boss" to Yankee fans and the head of "The Evil Empire" to the rest of the Major Leagues. He has gradually taken over baseball in all the different aspects of the game, controlling "The Market" and now establishing control of the Union. He's a shrewd businessman making superstars "Offers they can't refuse" and eliminating the competition with non-competitive ultra million dollar contracts. He has used the Yankee logo to his advantage, with the biggest fan base in the the United States and the rest of the..............
"Talking Beisbol" By Jose Reyes
TERMS:
Baseball Players (Peloteros):
"Jonron !" = "Homerun!" Picher = Pitcher
Un Roletaso = A Grounder Queche = Catcher
Un jil = A Single or a Hit Primera Base = 1ST Base
Un Tu bai = A Double Segunda Base = 2ND Base
Un Tri bai = A Triple........ Tercera Base = 3RD Base...........
"Batting Mechanics" By Jose Reyes 6/24/03
There is nothing more fascinating and more difficult, in the game of Baseball, than hitting a baseball with a bat. This ability or may I say "Art" is considered by baseball experts and physics professors as the hardest task in any sport to achieve. These experts came to this conclusion because of the batting averages accumulated by the best hitters in baseball history. There are several extremely difficult obstacles a batter must confront to make contact with the ball. The 93 to 100 MPH speedballs and the 80 to 86 MPH hooks hurled by the opposing pitcher along with the placement of the ball, by the hitter, after it is hit, are what everyone must comprehend to understand the reasoning behind the experts..............
Tony "O" Oliva By Vinni Puentes 6/12/03
At the beginning of Spring training, the Baseball Hall of Fame's Veterans Committee neglected to vote into the hall, the player who might have been the best Cuban player of the 60's and early 70's, Tony Oliva. To this day the only player in Major League history to win the batting title his first 2 years in the league. He was the unanimous choice for Rookie of the Year in 1964, in what was up to that time one of the best rookie seasons in baseball history..........
Hall of Famer? By Jose Reyes 5/15/03
The Baseball Hall of Fame consists of 255 exceptional individuals. These individuals are mostly player themselves but also managers, owners and baseball commentators. I will be concentrating only on the players and with the ones inducted after 1970, since I'm not familiar with all the players inducted before 1970. The baseball Hall of Fame unlike the other major sports, is based on numbers. There are 4 categories, that I feel, are the most important when judging if a player belongs in the Hall ..............